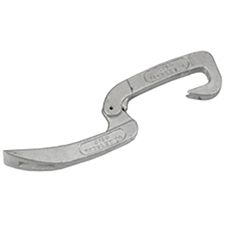 Zico Folding Spanner Wrench with Pry
Availability:
Call for Availability
Brand:
ZIAMATIC CORPORATION
Folding spanner wrench with pry: ZICO spanner wrenches and mounting bracket are constructed of light-weight high tensile strength aluminum. Wrenches fit any pin, rocker, or Storz couplings from one to four inches. Gas shut-off built into Model FSW-1. Model FSW-1, with built-in gas shut-off and pry folds down to 5" and opens up to 9". Carry in bunker coat pocket. Stainless steel pins.